Paper: Personalised 3D-printed EMG electrodes in eyeglasses frames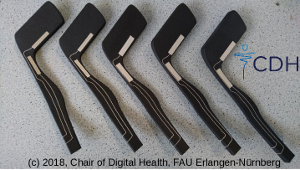 For the first time we design eyeglasses temples and 3D print conductive lines and electromyography (EMG) electrodes on the temples according to personal head shapes. In this paper, we demonstrate that the printed lines and electrodes provide adequate signal quality to acquire the Temporalis muscle activation during chewing. This work is part of our initiative to design intelligent accessories (here smart eyeglasses) for Automated Dietary Monitoring (ADM). See our ADM projects for more details.
Abstract
We design and 3D print conductive lines and EMG electrodes on eyeglasses temples. We evaluate the electrical property and the EMG signal quality of the printed components and report line resistance, electrode surface resistance, and EMG signal quality. We found that the signal quality is comparable to non-printed lines and electrodes. Our work shows that 3D printing of conductive lines and electrodes on custom-shaped eyeglasses frames is feasible for chewing monitoring.
Reference
Full text is available from our publications page.