Three papers at Ubicomp/ISWC 2018 in Singapore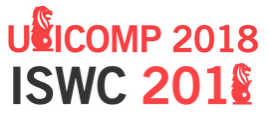 The chair is presenting three research papers at Ubicomp/ISWC 2018. The conferences will be held in Singapore during Oct 8-12, 2018. The papers will be published by ACM in the ISWC conference proceedings and the Proceedings of the ACM on Interactive, Mobile, Wearable and Ubiquitous Technologies.
Full texts will soon be available from our publications page.