Biocompatible implantable sensors for continuous in vivo monitoring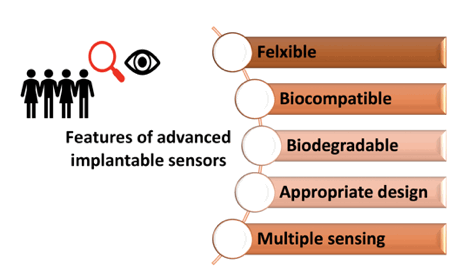 Course Description
Most currently available implantable sensors have a significant drawback due to provoking the immune response and inducing inflammation at the implantation site and leading to the fibrotic reaction. This fibrotic response can prevent the sensing of chemical changes leading to the disruption in the sensor's function after a few weeks or months. Therefore, finding an appropriate biomaterial with suitable properties and also design and fabrication of biocompatible implantable sensors are gaining increasing interest in the field of wearable technology. The aim of this study is to develop more physiologically compatible sensors for minimizing the deleterious response.
Learning Objectives
The introduction of biodegradable and flexible biomaterials
Develop the fabrication technologies in this field
Tailoring of the device design towards the physiological restrictions
| | |
| --- | --- |
| ECTS | 5 |
| Project type | Seminar |
| Presence time | lecture time: 2 SWS, exercises: 2 SWS |
| Useful knowledge | Materials characterizations, sensor technology, additive manufacturing techniques |
| Starting date | Winter semester 2018-2019 |
Literature
Up-to-date literature recommendations are provided during the lectures.
Examination
Final presentation and final report.
Contact
Job title:

Senior Researcher

Address:


Henkestraße 91, Haus 7, 1. OG

91052

Erlangen

Germany

Phone number:

+49 9131 85 23608

Email:

samira.tansaz@fau.de