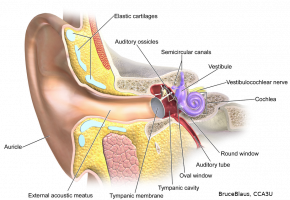 The Chair of Digital Health is looking for a FAU student interested in a assistant researcher position (HiWi) on:
Ear canal natural sound analysis
(work effort selectable up to 19h/week).
Qualifications
We look for a student with a strong interest in body acoustics. Ideally you have previous experience in computational sound analysis, knowledge in pattern analysis/machine learning, as well as Python and/or Matlab. Students with a background in multimedia/audio, medical engineering, computer science, or electrical engineering are specifically invited to apply.
The project
In this project, you can work with a world-leading leading hearing aid manufacturer and our team to analyse ear canal acoustics, specifically to interpret sound generated during food breakdown, i.e. chewing. Relevant literature can be found on our website (→ Publications) and requested via the contact details below. If you are unsure if your background fits, please contact us.
Contact
For inquiries regarding this position, please contact Prof. Dr. Oliver Amft via e-mail. Please send your application: cover letter detailing interests and background (<1 page) and CV, preferably as one PDF document via e-mail to Prof. Dr. Oliver Amft, Chair of Digital Health, FAU Erlangen-Nürnberg, Henkestrasse 91, 91054 Erlangen. Contact information can be found at the page bottom.
Der Lehrstuhl Digital Health sucht eine/n FAU Student/in für eine HiWi Stelle mit dem Thema:
Geräuschanalyse im Ohrkanal
(Aufwand wählbar bis zu 19h/Woche).
Qualifikationen
Wir suchen eine/n Studierenden mit Interesse an der Körperakustik. Idealerweise bringen Sie mit: Erfahrungen in der computerbasierten Geräuschanalyse, Kenntnisse in der Musteranalyse / maschinelles Lernen, sowie Python und/oder Matlab. Studierende in den Bereichen Multimedia/Audio, Medizintechnik, Informatik oder Elektrotechnik sind insbesondere eingeladen sich zu bewerben.
Das Projekt
Sie können mit einem weltweit führenden Hörgeräte-Unternehmen und unserer Forschungsgruppe zusammenarbeiten, um die akustische Umgebung des Gehörs zu analysieren, insbesondere um Geräusche zu untersuchen, die durch das Zerbrechen von Speisen entstehen. Relevante Literatur ist auf unserer Website (→ Publications) verfügbar und kann auch über die Kontaktinformationen unten bezogen werden. Wenn Sie Interesse haben, jedoch unsicher sind ob Ihre Erfahrungen geeignet sind, kontaktieren Sie uns gerne.
Kontakt
Für Fragen kontaktieren Sie bitte Prof. Dr. Oliver Amft. Bitte senden Sie Ihre Bewerbung: Anschreiben (<1 Seite) sowie Lebenslauf, bevorzugt als ein PDF Dokument per e-mail an Prof. Dr. Oliver Amft, Lehrstuhl für Digital Health, FAU Erlangen-Nürnberg, Henkestrasse 91, 91054 Erlangen.