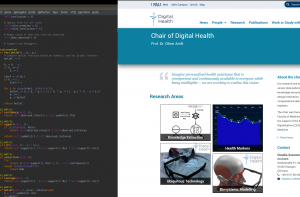 The Chair of Digital Health is looking for an FAU student interested in an assistant researcher position (HiWi) on:
CDH Digital Services Support and Backend Developer
(work effort selectable up to 19h/week).
We are looking for a motivated backend developer(f/m/nd) with a background in Linux administration tasks including LAMP servers, OpenLDAP, and SSH management.  The job will consist of the following tasks:
Implement dual authentication mechanism for secure service access.
High Performance Computing cluster management.
Backend service development for data collection.
Sought out skills:
PHP
HTML + CSS
Apache management
Python
Linux server infrastructure
What you will learn on the job:
Docker
WordPress template and plugin development
Network access and management tools:  OpenLDAP, SSH
HPC cluster setup and management
What we offer:
The Chair of Digital Health is a multicultural research group, where the successful applicant will experience the challenges of operating network infrastructure for a demanding, state of the art, and machine learning oriented research group. In addition, the successful candidate will participate in the development of digital health applications, which combine wearable, in building, and cloud technologies.
Contact
Job title:

Researcher

Organization:

Chair of Digital Health

Phone number:

+49 9131 85-23605

Email:

luis.i.lopera@fau.de