Summa cum laude PhD thesis defense of Florian Wahl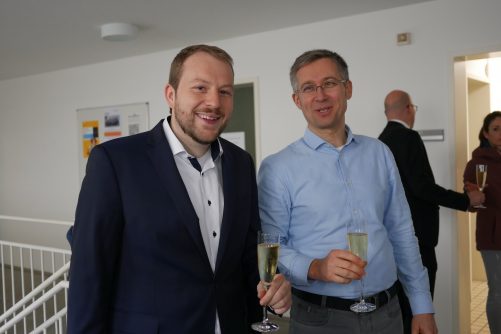 Florian Wahl completed his PhD (Dr. rer. nat.) with an excellent mark. The examination committee was composed of Prof. Dr. Oliver Amft, Prof. Dr. Alois Ferscha, Prof. Dr. Michael Granitzer, Prof. Dr. Gordon Fraser, and Prof. Dr. Hermann de Meer. We congratulate Florian, who is now an alumni of the group! We wish him best success for his next career step. The future is bright, Florian!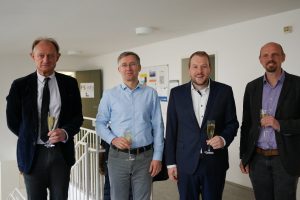 Thesis title: Methods for monitoring the human circadian rhythm in free-living
Short abstract: The hypothesis of this thesis is that smartphones and wearables can be used to record sensor data to monitor human circadian rhythms in free-living. To test this hypothesis, we conducted research on specialised wearable hardware, i.e. smart eyeglasses, and smartphones to record relevant data and develop algorithms to monitor circadian clock phase in free-living. We first introduce the smart eyeglasses that can be digitally personalised to the wearers head and 3D-printed. The integrated electronics can recognise typical activities of daily living (ADLs). A light sensor in the eyeglasses bridge can detect screen use. In addition to wearables, we also investigate if sleep-wake patterns can be revealed from smartphone context information. We introduce novel methods to detect sleep opportunity, which dynamically incorporates expert knowledge to filter and fuse pattern classifier outputs. Furthermore, we estimate light exposure from smartphone sensors and weather information. Finally, we leverage the Kronauer model to interpret phase shift resulting from light measurements at the head, wrist, as well as smartphone-based estimations.