GastroDigitalShirt: Digestion Acoustics Monitoring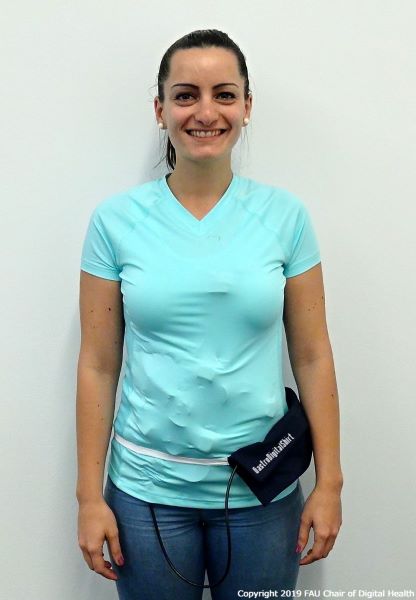 Most common digestive disorders are chronic conditions and reduce quality of life for patients.
Among the standard diagnostic techniques used by gastroenterologists, auscultation is one of the few non-invasive methods. Auscultation is a standard medical practice consisting in listening to body sounds  for typically a few minutes.
We are interested in investigating low-amplitude bowel sounds produced during peristaltic contractions as an indicator of chronic gastrointestinal diseases. Bowel Sounds (BS) events occur randomly, sparsely, and with very low amplitude compared to other body sounds. Typical short-time clinical auscultation could therefore only capture a few or none BS events. How would it then be possible to derive meaningful digestion-related biomarkers with such little knowledge of the digestive process?
Innovation
We developed the GastroDigitalShirt, a smart T-Shirt for long-term, acoustic abdominal monitoring.
The garment prototype embeds an array of eight miniaturised microphones connected to a low-power wearable computer. The fabric is made of elastane, which makes the T-Shirt highly stretchable and comfortable. 
The GastroDigitalShirt is available in different sizes to fit the largest population possible.
With the GastroDigitalShirt we monitored different digestion phases over six hours in healthy participants with no prior gastro-intestinal diseases. With our prototype we could identify 4 BS pattern clusters which can be related to known BS types. 
In future work we plan to extend our dataset, including patients to investigate novel digestion-related biomarkers from BS patterns as well as to develop automated BS segmentation methods.
Videos
Award
The GastroDigitalShirt received in 2019 the DGVS Innovation Award "Digital Gastroenterology" by the German Society for Gastroenterology, Digestive and Metabolic Diseases. The award recognizes projects to promote the development of digital innovations in gastroenterology. Click here for more information.
Press coverage
Work with us
We offer interesting challenges for students interested in working with acoustic sensors, smart textiles, software engineering and 3D-printing technology.
Publications
Contact