Bachelor/Master Thesis: Miniature wearable Electromyography (EMG) system design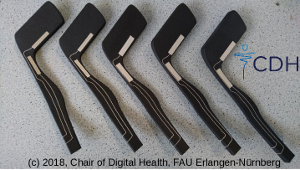 Background
Electromyography (EMG) has been extensively used in various digital health applications. In this field, miniaturization is crucial, as health data shall be recorded without influencing the daily life of the patient. To meet these requirements while avoiding signal loss, wearable designs where electrodes and electronics are placed tightly together need to be designed with smart new ideas. The vision of this project is to develop a 2-electrode wearable EMG that can be used in applications such as automatic dietary monitoring or swallow detection. The design could be implemented either by using a bipolar setup without a reference electrode or unipolar. The candidate should ideally have a background in medical electronics and an interest in developing novel architectures that can help to improve medical studies.
Aim
Optimize analog and digital electronics of a 2-electrode design for maximum signal quality (bipolar without reference or unipolar).
Data
| | |
| --- | --- |
| Project type | Master thesis / Bachelor thesis |
| ECTS | 30/10 |
| Language | English and/or German |
| Period | Winter term 2020/21 and summer term 2021 |
| Presence time | Working from remote and lab, depending on needs. |
| Useful knowledge | Wearable EMG / 2-electrode design / miniature form factor |
| Work distribution | 100% circuit design and evaluation |
| Registration | E-Mail to david.kopyto@fau.de |
Literature
Literature will be provided in the first meeting and the candidate is encouraged to further research relevant papers for this work.
Examination
Thesis report and final presentation.
Contact
Job title:

Researcher

Address:


Henkestraße 91, Haus 7, 1. OG

91052

Erlangen

Germany

Phone number:

+49 9131 85-23608

Email:

david.kopyto@fau.de