Thesis: Developing a framework for motion data synthesis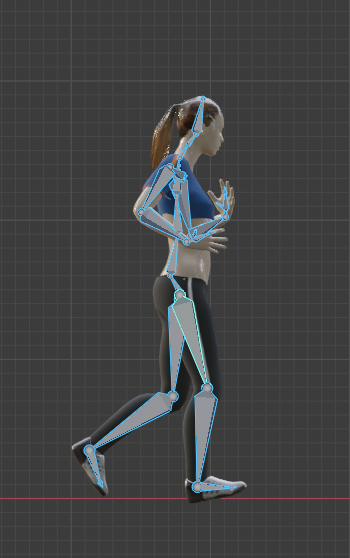 Background
From a classical marker-based motion capture system (MoCap) you obtain the coordinates of placed markers, which are used to establish a biomechanical model. However, information of the subject's circumferences (silhouette) and surface effects is not provided, which is crucial in case of surface attached sensor synthesis. New digital modelling techniques can help to approximate subject's silhouette based on the marker coordinates and allow a more realistic synthesis performance.
Aim
Extend the existing framework from real Motion Capture data to surface shape models while performing Activities of Daily Living (ADL's), developed at the chair. Use 3D modeling techniques (blender), automatic human body rigging and personalized shape models to synthesise different sensor signals in order to evaluate sensor placement effects.
Data
| | |
| --- | --- |
| Project type | BA/MA Thesis |
| ECTS | 10/30 |
| Language | English/ German |
| Period | Winter term 2021/22 |
| Presence time | Virtual, mostly working from remote, depending on the needs |
| Useful knowledge | 3D modeling, programming, biomechanics |
| Work distribution | 70% programming and algorithm development, 30% simulation |
| StudOn link | N/A |
| Registration | E-Mail to lena.uhlenberg@fau.de |
Literature
Literature recommendations are provided during the meetings. The candidate is further encouraged to research relevant publications on this topic.
Examination
Final presentation and final report/thesis
Contact
Job title:

Researcher

Address:


Henkestraße 91, Haus 7, 1. OG

91052

Erlangen

Germany

Phone number:

+49 9131 85-23605

Email:

lena.uhlenberg@fau.de