Thesis: Developing a Context Recognition Pipeline for Anorexia Nervosa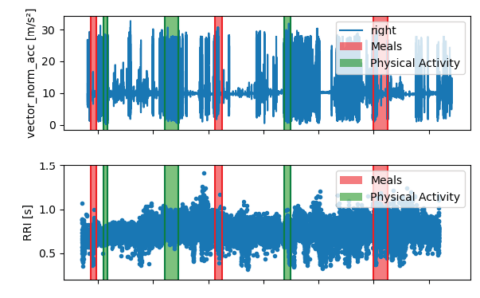 Background
Adolescent girls with AN undergo high levels of stress, which has been shown as risk factor in the development of eating disorders. Widely examined autonomic indices for stress reactivity are heart rate (HR) and heart rate variability (HRV, R-R intervals (RRI) in electrocardiogram). The current state of the art concerning HRV as a biomarker for AN show consistently elevated beat-by-beat variance for AN compared to controls. Thus, HRV features may act as a discriminating biomarker and may be used as input feature to different AI methods. Other promising biomarkers may be derived from activity monitoring as excessive physical activity is a common phenomenon in AN. Enhanced activity could be used as a deliberate strategy to lose weight, but has also been discussed as an emotion regulation strategy. Physical hyperactivity is an important prognostic factor in AN and applying AI techniques to AN motion data would offer the possibility of automatically detecting, extracting, and classifying movement patterns and other physiological features as biomarkers relevant to AN.
Aim
In a pilot study in cooperation with the University Hospital Erlangen, we will develop and implement an automatic pipeline for contextual assessment of movement (e.g. activity index) and eating behaviour in long-term measurements of AN patients. The aim of the thesis is to investigate the relationship between R-R intervals, HR and IMU data activity in anticipation of a scheduled eating event.
Data
| | |
| --- | --- |
| Project type | BA/MA Thesis |
| ECTS | 10/30 |
| Language | English/ German |
| Period | Summer term 2022 |
| Presence time | Virtual, mostly working from remote, depending on the needs |
| Useful knowledge | Python programming |
| Work distribution | 60% programming, 30% algorithms, 10% theory |
| StudOn link | N/A |
| Registration | E-Mail to lena.uhlenberg@fau.de |
Literature
Literature recommendations are provided during the meetings. The candidate is further encouraged to research relevant publications on this topic.
Examination
Final presentation and final report/thesis
Contact
Job title:

Researcher

Address:


Henkestraße 91, Haus 7, 1. OG

91052

Erlangen

Germany

Phone number:

+49 9131 85-23605

Email:

lena.uhlenberg@fau.de