Thesis: Developing a Dynamic Sensor-Body Attachment Model for Inertial Data Synthesis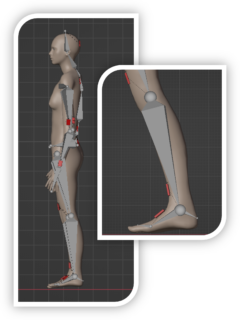 Background
A commonly known problem with accelerometers, inertial sensors or other measurement systems based on sensors attached to the skin are signal distortions or artefacts caused by vibration of the skin and soft tissues. To accurately measure acceleration/angular velocity during movement, invasive methods would be needed to attach the sensor to the bone, which is hardly ethical and also painful for the participants. Therefore, previous work simulated a direct link between the sensor and the body to synthesise sensor data from biomechanical models. Consequently, obtained results must be considered as ideal sensor data. To account for non-direct sensor-body attachment, a basic motion noise model was used for quantitative analysis of soft tissue attachment. However, muscle and other soft tissue or clothing effects require additional assumptions for the attachment model.
Aim
The thesis aims to systematically analyse existing dynamic sensor-body attachment models for the use of inertial sensor data synthesis in motion tasks and to implement a suitable model based on this analysis.
Data
| | |
| --- | --- |
| Project type | BA/MA Thesis |
| ECTS | 10/30 |
| Language | English/ German |
| Period | Summer term 2022 |
| Presence time | Virtual, mostly working from remote, depending on the needs |
| Useful knowledge | Python programming, Anatomy & Biomechanics |
| Work distribution | 70% programming, 30% theory |
| StudOn link | N/A |
| Registration | E-Mail to lena.uhlenberg@fau.de |
Literature
Up-to-date literature recommendations are provided during the meetings.
Examination
Final presentation and final report.
Contact
Job title:

Researcher

Address:


Henkestraße 91, Haus 7, 1. OG

91052

Erlangen

Germany

Phone number:

+49 9131 85-23605

Email:

lena.uhlenberg@fau.de