Adrian

Derungs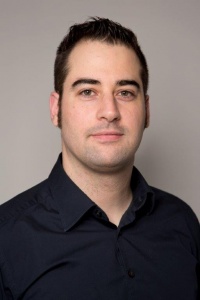 Job title:

Researcher

Organization:

Department of Medical Informatics, Biometry and Epidemiology

Working group:

Chair of Digital Health

Phone number:

+49 9131 85-23605

Email:

adrian.derungs@fau.de
Address:


Henkestraße 91, Haus 7, 1. OG

91052

Erlangen

Germany

Room 377

Office hours:
Biography
Adrian Derungs received his BSc. degree in Systems Engineering from the University of Applied Sciences NTB, Buchs, Switzerland in 2008. After working as Hardware Engineer in the MedTech industry he started his Master studies in 2010, and received the MSc. degree in Biomedical Engineering from the University of Bern, Bern, Switzerland in 2012. During the full-time study, he worked part-time in the Rehabilitation and Performance Institute at the University of Applied Sciences in BFH, Burgdorf, Switzerland.
He is currently working toward the PhD. degree with the Friedrich-Alexander University Erlangen-Nürnberg, Erlagen, Germany. His main research interest include free-living quantification of functional movement in patients after stroke, long-term recovery trend analysis using wearable sensor technology. In addition, his research includes motion analysis in sports and skill-evaluation using machine learning techniques.
Publications
2021
2020
Johannes Knitza, David Simon, Antonia Lambrecht, Christina Raab, Koray Tascilar, Melanie Hagen, Arnd Kleyer, Sara Bayat, Adrian Derungs, Oliver Amft, Georg Schett, Axel J Hueber, "Mobile Health in Rheumatology: A Patient Survey Study exploring Usage, Preferences, Barriers and eHealth Literacy (Preprint)", JMIR mHealth and uHealth, 2020.
2019
2018
Adrian Derungs, Sebastian Soller, Andreas Weishäupl, Judith Bleuel, Gereon Berschin, Oliver Amft, "Regression-based, mistake-driven movement skill estimation in Nordic Walking using wearable inertial sensors", Proceedings of the 2018 IEEE International Conference on Pervasive Computing and Communications (PerCom), IEEE Xplore, March 2018.
2017
2016
Pages