Dr. Andreas

Rowald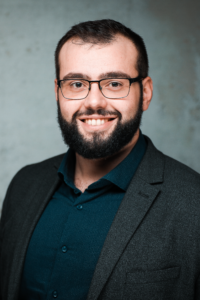 Job title:

Research Group Leader

Organization:

Department of Medical Informatics, Biometry and Epidemiology

Working group:

Chair of Digital Health

Phone number:

+49 9131 85-23604

Email:

andreas.rowald@fau.de
Address:


Henkestraße 91, Haus 7, 1. OG

91052

Erlangen

Germany

Room 376
Biography
Andreas Rowald, PhD, joined the Chair of Digital Health at the Friedrich Alexander University Erlangen-Nürnberg (FAU) as research group leader of the ProModell group in October of 2021.
Dr. Rowald completed his doctoral studies in electrical engineering at the Ecole Polytechnique Fédérale de Lausanne (EPFL), Switzerland. His doctorate work focused on the implementation of a computational framework to support the design of personalized neurotechnologies to restore nervous function after spinal cord injury. During his PhD, he lead a research group at the Defitech Center for Interventional Neurotherapies in Lausanne, Switzerland, that focused on the development of computational tools for the design and optimization of spinal cord stimulation paradigms.
Dr. Rowald´s research focuses on prognostic, personalized digital patient models to develop and deploy effective, safe, and robust neurostimulation strategies.
Publications
1. Rowald, A., Komi, S., Demesmaeker, R. et al. Activity-dependent spinal cord neuromodulation rapidly restores trunk and leg motor functions after complete paralysis. Nat. Med. (2022). https://doi.org/10.1038/s41591-021-01663-5
2. Kathe, C., Michoud, F., Schönle, P. et al. Wireless closed-loop optogenetics across the entire dorsoventral spinal cord in mice. Nat Biotechnol  (2022). https://doi.org/10.1038/s41587-021-01019-x
3. Squair, J.W., Gautier, M., Mahe, L. et al. Neuroprosthetic baroreflex controls haemodynamics after spinal cord injury. Nature (2021). https://doi.org/10.1038/s41586-020-03180-w
4. Schiavone, G., Fallegger, F., Kang, X. et al. Soft, Implantable Bioelectronic Interfaces for Translational Research. Adv. Mater. 2020 https://doi.org/10.1002/adma.201906512
5. Wagner, F.B., Mignardot, JB., Le Goff-Mignardot, C.G. et al. Targeted neurotechnology restores walking in humans with spinal cord injury. Nature (2018). https://doi.org/10.1038/s41586-018-0649-2
6. Formento, E., Minassian, K., Wagner, F. et al. Electrical spinal cord stimulation must preserve proprioception to enable locomotion in humans with spinal cord injury. Nat. Neurosci. (2018). https://doi.org/10.1038/s41593-018-0262-6
7. Deschamps, J., Rowald, A. and Ries, J. Efficient homogeneous illumination and optical sectioning for quantitative single-molecule localization microscopy. Opt. Express (2016). https://doi.org/10.1364/OE.24.028080
Media
https://www.youtube.com/embed/9LtuXDPFzz4
https://www.youtube.com/embed/PCnlsQj8Lcs
https://www.youtube.com/embed/4seioQY0Xto
https://www.verywellhealth.com/spinal-cord-injury-walking-5219639
https://news.yahoo.com/paralysed-men-walk-again-thanks-071247540.html
https://www.fau.eu/2022/02/16/news/research/new-medical-advances-thanks-to-digital-twins/