Isabel

Nieto Alvarez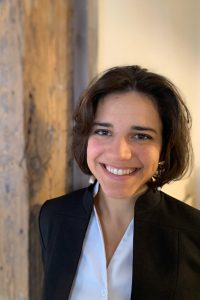 Job title:

Researcher

Working group:

Chair of Digital Health

Phone number:

+49 9131 85-23601
Biography
Isabel Nieto is an expert in patient engagement and patient experience for Siemens Healthineers. She served as a global marketing manager for the company in various previous positions. She is also an active member of their Global Innovation Network. Prior to her work with Siemens, Isabel was a Professor of Design and Evaluation at the Universidad Anáhuac Querétaro, México with a focus on sustainability in healthcare. Passionate about improving the patient experience, she has presented and written globally on the subject. She is awaiting approval for her first EU and USA patent. Isabel is a biomedical engineer by training and also holds a Master of Science in Mind and Body Medicine as well as a Certification on Leadership in Healthcare without Harm. Currently Isabel is pursuing her PhD degree at the Chair of Digital Health at the Friedrich Alexander University of Erlangen-Nuremberg.
Publications and Patent
2018
EU Patent submission: MRI solution to reduce patient movement, manage behavior, anxiety
& stress (2018).
2017
Kozak L, Nieto I, Astudillo W, Mendinueta C. (2017):
Las terapias complementarias integrativas en cuidados paliativos.
[Complementary integrative therapies in palliative care]
In: Paliativos sin Fronteras, editor. Medicina paliativa en adultos, Spain.
2014
Kozak L, Astudillo W, Nieto I, Mendinueta C, Acinas P. (2014):
Las Terapias complementarias en el cuidado paliativo de niños y adolescentes.
[Complementary therapies for palliative care for children and adolescents]
In: Paliativos sin Fronteras, editor. Medicina Paliativa en niños y adolescentes, Spain.