Rui

Zhang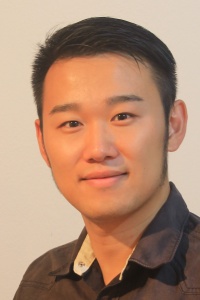 Job title:

Researcher

Organization:

Department of Medical Informatics, Biometry and Epidemiology

Working group:

Chair of Digital Health

Phone number:

+49 9131 85-23604

Email:

rui.rui.zhang@fau.de
Address:


Henkestr. 91, Geb. 7

91052

Erlangen

Room 376

Office hours:
Biography
Rui Zhang was born in Harbin, China, where he spent most of his pre-college time until getting admitted by Nanjing University of Science and Technology (NJUST) in the ancient and modern Nanjing City in 2008. Rui obtained his B.Sc. degree in Automation in 2012.
In 2013, Rui attended a Master program provided by Otto-von-Guericke-University of Magdeburg (OvGU) focusing on medical imaging and human computer interface technologies in operating room. In 2015, Rui finished his study at OvGU with M.Sc. degree in Medical Systems Engineering.
In 2015, Rui joined the ACTLab research group in University of Passau (UP), where he started his work in the EU project "SimpleSkin" and developed the first prototype of smart dietary monitoring eyeglasses.
In 2017, as ACTLab moved to Friedrich-Alexander-Universität Erlangen-Nürnberg (FAU), Rui moved along with the research group to Erlangen, Germany's city of healthiness and medical technology. Rui's research interest includes machine learning, context recognition, wearable computing, and sensor tecnology. His current working topic is dietary monitoring using smart eyeglasses in free-living and dietary behaviour analysis.
Publications
In Press
2021
2020
2019
Giovanni Schiboni, Juan Carlos Suarez, Rui Zhang, Oliver Amft, "Attention-Based Adaptive Sampling for Continuous EMG-Data Streams", 2019 IEEE SmartWorld, Ubiquitous Intelligence & Computing, Advanced & Trusted Computing, Scalable Computing & Communications, Cloud & Big Data Computing, Internet of People and Smart City Innovation, IEEE, 2019.
2018
2017
Jingyuan Cheng, Bo Zhou, Paul Lukowicz, Fernando Seoane, Matija Varga, Andreas Mehmann, Peter Chabrecek, Werner Gaschler, Karl Goenner, Hansjürgen Horter, Stefan Schneegass, Mariam Hassib, Albrecht Schmidt, Martin Freund, Rui Zhang, Oliver Amft, "Textile Building Blocks: Toward Simple, Modularized, and Standardized Smart Textile", Smart Textiles, Springer International Publishing, 2017.
2016
Pages