Dr.

Luis I.

Lopera G.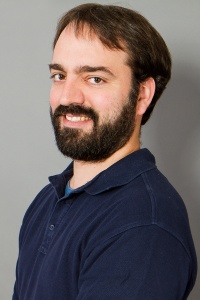 Job title:

Researcher

Organization:

Chair of Digital Health

Phone number:

+49 9131 85-23605

Email:

luis.i.lopera@fau.de
Address:


Henkestraße 91, Haus 7, 1. OG

91052

Erlangen

Germany

Room 377
Biography
Luis Ignacio Lopera Gonzalez was born in Medellin Colombia. But lived must of his life in Bogota. An interest in understanding the inner workings of devices and machines took him to Los Andes University (Uniandes) where he pursued a career in Electronic Engineering, with a major in control theory and a minor in signal analysis. After finishing his bachelor in 2003 he moved on to pursue a master degree also in Uniandes. Just before finishing his studies, he was appointed as chief of Labs for the Electrical and Electronic Engineering Department in Los Andes. In 2005 he receives his master degree in Electronic Engineering and Computer Science.  As Chief of labs, he actively participated in the design and construction oversight of the teaching and research laboratories that were being built in the new building for the school of engineering, the Mario Laserna. In 2009 Luis Lopera moved to a position in the Physics Department at Uniandes, with the high energy physics group, where he went to work in a commission at CERN (European Center for Nuclear Research) located in the border of France and Switzerland. There, he worked as part of the operations team of the Data Quality Monitoring Group of the Compact Muon Solenoid (CMS) detector.
In 2012 Luis joined ACTLab and in 2018 he received his Dr. rer. nat. degree from the University of Passau. His interests are in semantic modelling, time series rule mining, and algorithm development. Specifically, he is analyzing new technologies, like the Internet of Things,  and how these technologies capture and process context information. Additionally, he studies the impact of context-aware technologies in the commissioning and maintenance processes of complex systems.
Publications
2021
Oliver Haas, Luis Ignacio Lopera Gonzalez, Sonja Hofmann, Christoph Ostgathe, Andreas Maier, Eva Rothgang, Oliver Amft, Tobias Steigleder, "Predicting Anxiety in Routine Palliative Care Using Bayesian-Inspired Association Rule Mining", Digital Health, Frontiers, 2021.
2020
2019
2018
2016
2015
2014
2013
Viktoriya Degeler, Luis Ignacio Lopera Gonzalez, Mariano Leva, Paul Shrubsole, Silvia Bonomi, Oliver Amft, Alexander Lazovik, "Service-Oriented Architecture for Smart Environments (Short Paper)", SOCA 2013: Proceedings of the IEEE 6th International Conference on Service-Oriented Computing and Applications, IEEE, 2013.
Pages