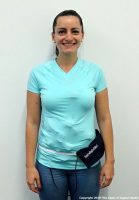 Klicken Sie hier für die deutsche Version.
Purpose of the study
This project aims to collect and analyse bowel sound emitted from the abdomen during digestion. Data will be recorded and saved by the GastroDigitalShirt prototype. The collected bowel sounds will be analysed to extract indicators of gut inflammation state.
Study pipeline
A participant recording session lasts around 6-7 hours und will take place at the Chair of Digital Health (FAU) and at the Department of Medicine 1 of the University Hospital Erlangen. The recording is divided into different video-monitored sub-sessions, which include daily activities, such as eating and walking.
Requirements for participating
The study will include healthy participants as well as patients with and without active condition of inflammatory bowel disease. Participants must be at least 18 years old. Pregnant or breastfeeding women will be excluded. Patients who underwent total colectomy because of an Ulcerative Colitis will be excluded.
Data usage and privacy
The data will be stored in a pseudonymous form on our servers and only members of the Chair of Digital Health and Department of Medicine 1 of the University Hospital Erlangen will have access.
What we offer you in return
Participants will be informed on the results of the study and will have the opportunity to analyse their gut function. In addition, patients will receive the results of the inflammation state analysis from the blood and stool samples.
How to apply for the study
If you would like to take part in the study, click here to download the study contact form. Please complete the questionnaire on your gut health status and other information required for the study. Please send the completed form by e-mail (cdh-gastrodigitalshirt@lists.fau.de) or by post (Chair of Digital Health, Study GastroDigitalShirt, Henkestr. 91, 91052 Erlangen).
After reviewing your data we will contact you to schedule a recording session.
Any questions?
For more information about the study feel free to contact us.
Tel: +49 9131 85-23601 (Consultation hours: Monday-Thursday 8:30 – 14:00)