Thesis: Near-IR imaging and ML to estimate tooth & gum status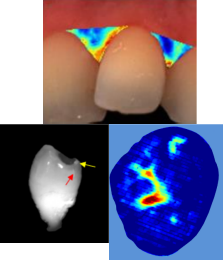 Background
Dental problems are one of the most prevalent clinical conditions. While oral care method have improved substantially over the last 100 years, incidence rates of tooth and gum problems are persisting or even increasing. For example, bacteria acids erode the tough tooth enamel and subsequently the softer tooth layers. Near-infrared (NIR) light is generally reflected off healthy tooth enamel. Depending on the NIR wavelength, incident light is getting absorbed by a target structure with elevated water content, i.e. compromised structure. In recent years imaging investigations shifted from special-purpose InGaAs cameras to consumer market CMOS technology. However, CMOS camera sensors provide low quantum efficiency at NIR wavelength, thus making image interpretation harder.
Aim
Analyse and develop an NIR image interpretation method based on NIR performance-enhanced CMOS cameras. Evaluate and optimise image processing and detection algorithms with actual human tooth samples.
Data
| | |
| --- | --- |
| Project type | Master thesis |
| ECTS | 30 |
| Language | English/ German |
| Period | Winter term 2021/22 |
| Presence time | Virtual, mostly working from remote; however some laboratory activity |
| Useful knowledge | Deep learning, programming, image analysis |
| Work distribution | 70% programming and algorithm development, 30% experimentation |
| StudOn link | N/A |
| Registration | e-mail to Prof. Oliver Amft |
Literature
Literature recommendations are provided during the meetings. The candidate is further encouraged to research relevant publications on this topic.
Examination
Final presentation and final report/thesis
Contact