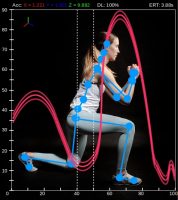 Master Thesis
Monitoring and quantifying evaluation of functional motion is essential for patients with ankylosing spondylitis (AS), a form of arthritis affecting primarily the spine. Personalisation of quantified measurements allows clinicians to regulate and control drug-based treatment to ease pain in AS patients.
In this MSc.-Thesis / MSc.-Internship, we investigate different technologies, including video-based motion capturing (MC) and inertial measurement sensors (IMUs) to monitor and quantify patients motion according to defined clinical assessment tasks. In a pilot study, in collaboration with the Universitätsklinikum Erlangen, we will evaluate how accurate MC and IMUs can monitor motion differences and subsequently how recovery / progress in AS patients can be estimated and evaluated.
This project combines different technologies and medicine, hence the project is particularly suited for students in the medical engineering (Medizintechnik) curriculum.
| | |
| --- | --- |
| Project type | MSc. Thesis, MSc. Internship |
| Work distribution | 20% Theory, 50% Data Analysis, 30% Experiments |
| Requirements | Strong technical background, i.e. computer science, python |
| Starting date | Winter semester 2019/20 |