Thesis: Synchronised Processing of EMG and Audio Data for Dietary Monitoring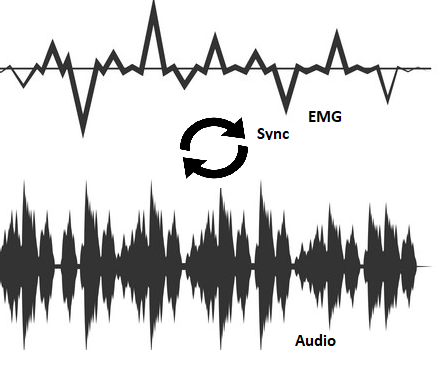 Background:
To automate the analysis of consumed food for dietary monitoring, several approaches have been tried. Two promising ideas are a) electromyographic (EMG) monitoring of the masseter muscle, and b) acoustic measurements to capture chewing sounds. While EMG data can be used well for segmentation of chewing intake phenomena, audio data reveals more about the microstructure of food types, and can give insights about patient specific phenomena. To get a more complete picture of the physiology of chewing for automation of dietary monitoring, a better understanding of the correlation of the two types of time series is crucial. The goal of this thesis is to develop an extensive study of both signal types, and their interdependencies. Furthermore, a synchronisation technique for both data streams grounded on the basis of such an investigation shall be developed. To achieve sufficient synchronisation, both signal processing ideas, based on knowledge from oral biology, as well as hardware solutions (e.g. timestamp-based synchronisation) may be investigated and compared.
Aim:
Study dependencies between EMG and audio data for chewing phenomena, develop a pipeline for time synchronisation of both time series during chewing measurements.
Data
| | |
| --- | --- |
| Project type | Bachelor/Master thesis |
| ECTS | 10,30 |
| Language | English and/or German |
| Period | Winter term 2021/22 |
| Presence time | Working from remote or lab, depending on needs. |
| Useful knowledge | Biomedical signals, audio signal processing, Python |
| Work distribution | 33% measurements 33% biomedical signal analysis 33% programming |
| StudOn link | Link will follow shortly. |
| First meeting | Online introduction/Vorbesprechung |
| Registration | Via StudOn, obligatory after introduction. |
Literature
Up-to-date literature recommendations are provided during the meetings.
Examination
Final presentation and final report.
Contact
Job title:

Researcher

Address:


Henkestraße 91, Haus 7, 1. OG

91052

Erlangen

Germany

Phone number:

+49 9131 85-23608

Email:

david.kopyto@fau.de